So this weekend I was talking to someone whose horse, as we found out, shares many of the same ancestors as Midnight, and I got to thinking--I really know next to nothing about Thoroughbred racing, and I only know the stories of a few of the most famous horses. So I thought I'd do some research and learn a bit more about his famous forbears.
Midnight's (AKA He's a Bobcat) pedigree
Alydar (1975-1990): Midnight's grandsire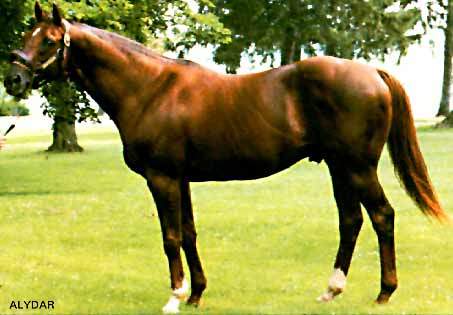 His body type is so similar to Midnight's--more beefy than your typical TB.
I did know a bit about Alydar from Midnight's owner, who mentioned that he was Midnight's grandsire the first time I met her. I had no idea what that meant, so I nodded, smiled, and later looked up who he was.
Really quite a thrilling, but
tragic story
. Alydar went neck-and-neck with Affirmed in each race of the 1978 Triple Crown...and always lost by a hair. He went on to become a very successful stud at Calumet Farm in Lexington, KY, earning $12 million a year in stud fees.
Alydar vs. Affirmed in the Belmont Stakes
But despite that, in 1990 Calumet Farm was in the red, and Alydar was put down after (supposedly) kicking his stall door so hard he broke his hind leg. Side note--I actually knew a horse who this happened to, but with his foreleg, and he also had to be put down--it's near impossible to keep a horse that hot quiet enough for stall rest. But breaking a hind leg is a different story--much harder to do. Years later, when the owner of Calumet was being tried for other charges, it was found out that the break was so severe Alydar couldn't have inflicted it upon himself--and that foul play was almost certainly the cause of the largest equine insurance payout in history--$36.5 million.
Which still wasn't enough to save the farm, by the way. You're probably doing something wrong if you need to off your most famous horse in order to stay in business.
Raise a Native (1961-1988): Midnight's great-grandsire
Raise a Native, son of Native Dancer, is famous for siring both Alydar and Mr. Prospector. Meh. I wasn't that captivated by his story--but there's the source of Midnight's long back!
Intentionally (1956-1970): Midnight's great-great grandsire via his great-dam (this is getting complicated!)
One of the very few true black Thoroughbreds--and likely the reason Midnight is such a dark bay he's almost indistinguishable from black. Intentionally was the top sprint horse in 1959, but never made it to the Triple Crown due to an injury.
Princequillo (1940-1964): Midnight's great-great-great grandsire via his great-dam
The drama of Princequillo begins before he was even born. His sire, Prince Rose, was quite successful in Belgian racing, but was whisked away to France to avoid being commandeered by the Germans once World War II began. Eventually he was seized, but before that, he was bred to Cosquilla, and Princequillo was born. Both mare and foal were shipped to the US by boat--a daunting proposition in general, but especially so when you had U-boats to tangle with.
At first Princequillo didn't seem like he'd amount to much, but with the help of trainer Horatio Luro, he went from the $1500 claiming races to the Jockey Club Gold Cup as a three-year-old. Other races, blah blah blah, then he sired a bunch of babies, yada yada yada.
This account
tells the story better than I can.
He looks like a sweetie--and what a hunk! He looks so solid and well-balanced in his conformation.
The person I was talking to (more on this mysterious person later, I promise...unless we get rained out) also was going on about a bunch of racing terms I didn't quite get--so there's a HorseNation idea. I'm sure a lot of OTTB aficionados are in the same spot--pretty far removed from the racing world, and lacking knowledge about what the racing life entails. Personally I always found all the pedigree charts kind of dull since I didn't understand what I was looking at, but once you get into the financial dealings of the owners, how the horses' careers progressed, etc. it becomes a lot more interesting.
TB owners out there--who's the most interesting name in your horse's pedigree?