Hey, so you know how in the last post I was talking about how my most recent fall was not that recent? Cause ha, my achy shoulder says otherwise today.
Yep...the gymnastics lesson was a bit more exciting than we thought it would be. Apparently there was a girl who had been jumping Midnight pretty regularly, and his owner had been doing trot poles with him, but never trot in/canter out gymnastics, so he is much more green to them than the instructor and I anticipated.
What happened was he trotted in very nicely to an X, but the next jump (a one-stride) had a flat plank kind of like this (only much smaller, and with just one plank):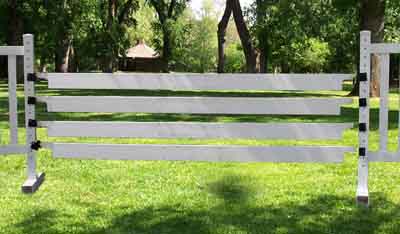 We were supposed to trot in to the X and canter over the vertical, but in the middle Midnight got all crooked and then just sort of launched himself over weirdly. Obviously I didn't see it, but it was probably a situation of him going one way and me going the other. Thankfully the jump arena has soft footing. The instructor kept apologizing, saying she didn't realize he was still so green over these--and I totally know how she felt now, having taught lessons. But there really was no way we could have known how he was going to react; it definitely wasn't anyone's fault--possibly mine for not being more aggressive about keeping him perfectly straight.
All is fine though. I am pretty bummed that I will have to replace my Charles Owen Wellington since I freaking love that helmet. It's like a suction cup on my head. I definitely did fall on my the side of my head though so even though it doesn't look damaged and I didn't get a concussion or anything, I really do need to replace it. Lesson learned: wear a cheap helmet for jumping lessons!
My homework for the week is to work on straightness with chutes (trot poles or low Xes) and also to do a lot of leg yields on both sides.
My equestrian idol...this is one of those questions that I just feel kind of bleh about. I don't really have one. But I do remember having a total fit when I was starting my first day of my
Practical Horseman
internship, and I saw the contact info for McLain Ward and Beezie Madden in my Rolodex (yes, they still use Rolodexes there!). Actually, if anything, the people who work at PH are probably my role models. They have found a way to combine their passion for writing with their passion for horses, and they are very knowledgeable. I am happy with my job but I SO wish a position had opened up at
Practical Horseman
after my internship. Never say never, right?